Inverter Split AC powered by Digital Inverter with Faster Cooling 4.98kW (1.5T) (AR18TY3QCPU)
Features: • Crystal Series- Pastle Blue • 100% Copper Condenser • R32 Gas Refrigerant • Warranty: 10 Years on Compressor
Specifications:
Type
Capacity (Cooling, Btu/hr)-17000 Btu/hr
Capacity (Cooling, Min - Max, Btu/hr)-7165-19107 Btu/hr
Capacity (Cooling, kW)-4.982 kW
Capacity (Cooling, Min - Max, kW)-2100-5600 kW
Energy Efficiency
ISEER-3.50
SEER(Btu/hW)-11.94
EER (Cooling, W/W)-2.85 W/W
EER (Cooling, Btu/hW)-9.73 Btu/hW
Energy Star Rating (Cooling)-3 Star
Noise Level
Noise Level (Indoor, High/Low, dBA)-40 / 31 dBA
Noise Level (Outdoor, High/Low, dBA)-52 dBA
Electrical Data
Power Source(?/V/Hz)-1 / 220~240 / 50
Power Consumption(Cooling, W)-1748 W
Operating Current(Cooling, A)-7.6 A
Physical specification
Gross Dimension (Indoor, WxHxD, ?*?*?)-1045*380*305 mm
Gross Dimension (Outdoor, WxHxD, ?*?*?)-940*615*420 mm
Net Dimension (Indoor, WxHxD, ?*?*?)-957*302*213 mm
Net Dimension (Outdoor, WxHxD, ?*?*?)-800*554*333 mm
Gross Weight (Indoor, kg)-15.75 kg
Gross Weight (Outdoor, kg)-34.3 kg
Net Weight (Indoor, kg)-11.9 kg
Net Weight (Outdoor, kg)-28.3 kg
Technical Information
Piping Length (Max, m)-30 m
Piping Height (Max, m)-20 m
SVC Valve (Liquid (ODxL))-6.35
SVC Valve (Gas (ODxL))-12.7
Air Circulation (Cooling, ?/min)-13.17 ?/min
Refrigerant (Type)-R32
Low Ambient (Cooling, ?)-0~50 ?
Outdoor Unit (Compressor Type)-ROTARY
Air Flow
Air Direction Control (Up/Down)-Auto
Air Direction Control (Left/Right)-Manual
Air Flow Control Step (Cool/Fan)-3 / 3
Convenience
Indoor Temp. Display-Yes
Display On/Off-Yes
Beep On/Off-Yes
24-Hour Timer-Yes
Auto Restart-Yes
Operating Mode
Auto Mode-Yes
Fast Cool-Yes
Good Sleep-Yes
Dehumidification-Yes
Fan Mode-Yes
Smart
WiFi Embedded-No
Reduces energy use
Energy Saving
Save money every day with digital inverter technology. It maintains the desired temperature without frequently turning off and on, so there's less fluctuation. And it uses strong magnets and a Muffler, so it is quieter, lasts much longer and reduces energy consumption.
Cools you faster
Fast Cooling
Cool a whole room rapidly and effectively. Fast Cooling mode operates with the fastest fan speed, before slowing down. So it cools or heats much faster compared to the normal mode* and reaches the desired temperature in the shortest time. It's ideal for immediate relief from the heat outside.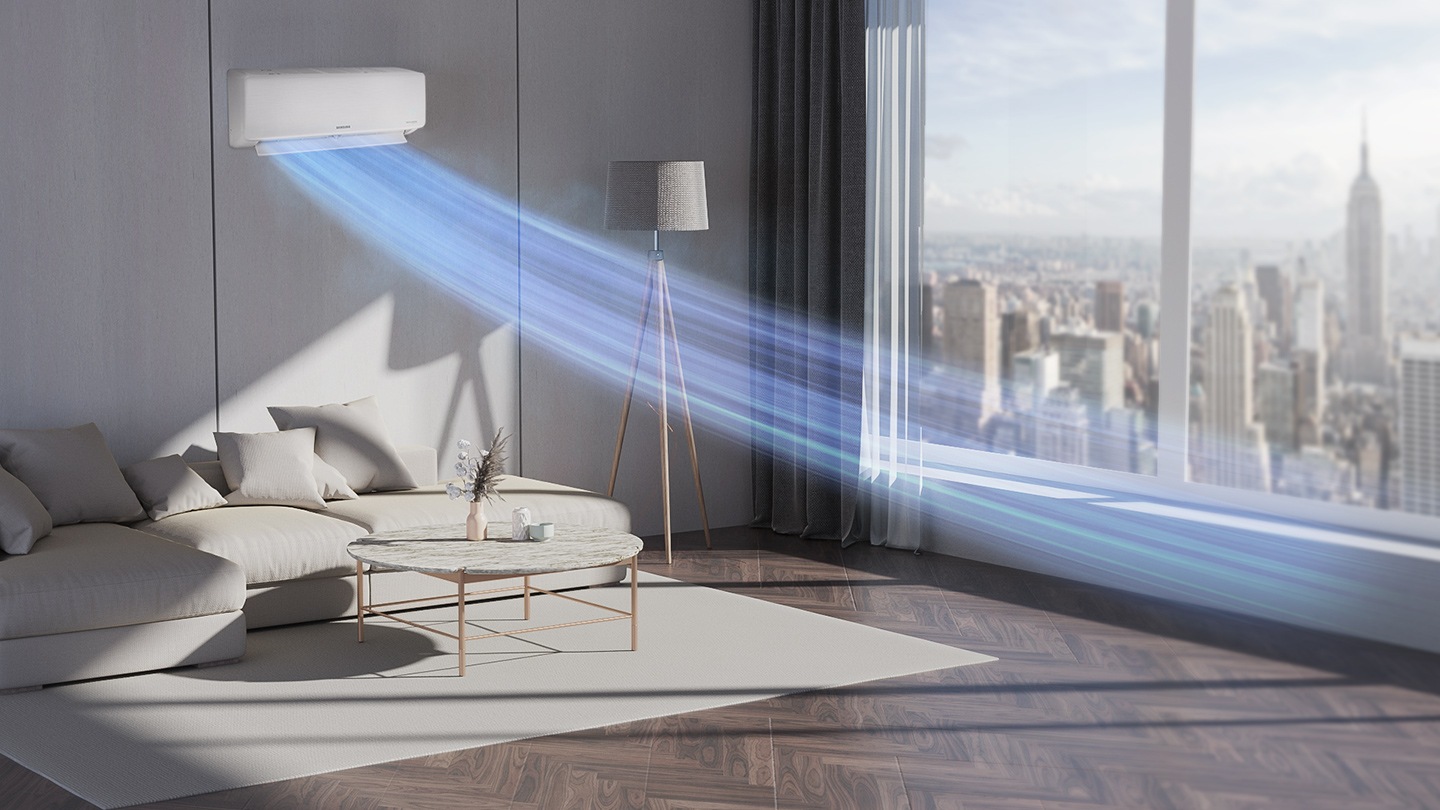 Breathe purer air
HD Filter
Make sure that the air you breathe is always clean and fresh. The HD Filter is really effective at capturing dust, airborne contaminants and allergens, such as pollen, mold spores and pet dander. And it's also washable, so all you need to do is give it a quick rinse in water and then reuse it.
Enjoy a good sleep
Good Sleep
Enjoy a great night's sleep – every night! Good Sleep mode automatically controls and fine-tunes the temperature to create the ideal conditions for each stage of the sleep cycle. So you gain precious minutes of sleep and feel fully refreshed. And it also uses less energy than normal cooling.
Cools every corner
2-Way Auto Swing
Create a comfortable environment with an even temperature in every corner. The 2-Way Auto Swing function automatically controls the air flow direction, so it's quickly and evenly distributed across the room. It can expel cool or warm air further and in every direction to ensure maximum comfort.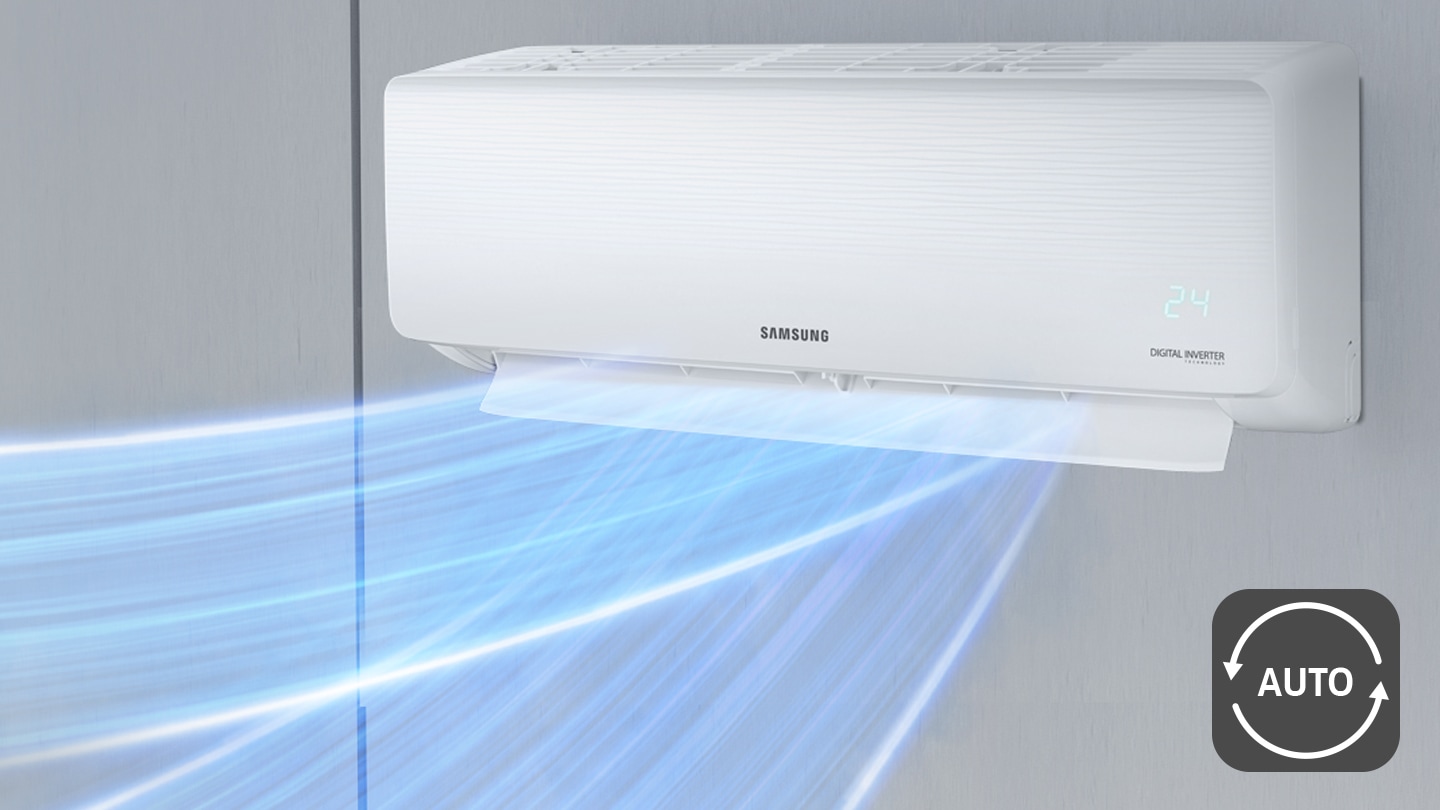 Long-lasting cooling
DuraFin+
Stay comfortably cool for much longer. The DuraFin+ is made of corrosion-resistant material to protect the condenser from rusting, which helps to maintain the optimal performance of the Heat Exchanger. Its superb corrosion-resistance was proven using the Salt Spray Test (SST) for 480 hours*.
Installation & Demo
This product does not require installation. The features of the product are presented in the user manual that comes with it. Hence, the manufacturer does not provide on-site installation or demo for the product. In case of any queries about the installation or the features of product, kindly call us at 1800 208 9898 or (080) 49400000 for assistance.
Warranty
Warranty Service Type
Technician Visit
Warranty Summary
1 Year on Product and 10 Years on Compressor From Samsung
Covered in Warranty
All Parts Excluding Plastic Parts, Glassware, Bulb and Tube from the Date of Purchase Against Defective Material and Workmanship
Not Covered in Warranty
Parts: Plastic / Glassware / Bulb / Tube. Any Accessories External to the Product. The Product is Not Used According to the Instructions Given in the Instructions Manual. Defects Caused by Improper Use as Determined by the Company Personnel. Modification or Alteration of Any Nature made in the Electrical Circuitry or Physical Construction of the Set. Site (Where the Premises is Kept) Conditions That do Not Confirm to the Recommended Operating Conditions of the Machine. The Serial Number is Removed, Altered or Obliterated from the Machine. Defects Due to Cause Beyond Control Like Lightening, Abnormal Voltage, Acts of God or While in Transit to the Service Centres or Purchasers Residence.