Split AC powered by Triple Inverter with Convertible Mode 3.20kW (1.0T) (AR12TV5HEWK)
Features: • Convertible Mode • Durafin Condenser • Warranty: 10 Years Compressor, 5 Years Condensor & PCB Controller
Specifications:
Type
Capacity (Cooling, Btu/hr)-10919 Btu/hr
Capacity (Cooling, Min - Max, Btu/hr)-3,412 ~ 14,160 Btu/hr
Capacity (Cooling, kW)-3.20 kW
Capacity (Cooling, Min - Max, kW)-1.0 ~ 4.15 kW
Energy Efficiency
ISEER (W/W)-4.8 W/W
EER (Cooling, W/W)-3.60 W/W
Energy Star Rating (Cooling)-5 Star
Noise Level
Noise Level (Indoor, High/Low, dBA)-42 / 22 dBA
Noise Level (Outdoor, High/Low, dBA)-49 dBA
Electrical Data
Power Source(?/V/Hz)-1 / 230 / 50
Power Consumption(Cooling, W)-890 W
Operating Current(Cooling, A)-4.6 A
Physical specification
Gross Dimension (Indoor, WxHxD, ?*?*?)-943*299*352 mm
Gross Dimension (Outdoor, WxHxD, ?*?*?)-852*626*358 mm
Net Dimension (Indoor, WxHxD, ?*?*?)-890*285*251 mm
Net Dimension (Outdoor, WxHxD, ?*?*?)-720*548*265 mm
Gross Weight (Indoor, kg)-11.5 kg
Gross Weight (Outdoor, kg)-29.2 kg
Net Weight (Indoor, kg)-10.0 kg
Net Weight (Outdoor, kg)-25.7 kg
Technical Information
Piping Length (Max, m)-15 m
Piping Height (Max, m)-8 m
SVC Valve (Liquid (ODxL))-6.35
SVC Valve (Gas (ODxL))-9.52
Moisture Removal (l/hr)-1.5 l/hr
Air Circulation (Cooling, ?/min)-14.1 ?/min
Refrigerant (Type)-R410A
Refrigerant (Charging, kg)-0.700 kg
Low Ambient (Cooling, ?)-15~52 ?
Outdoor Unit (Compressor Type)-8-POLE
Outdoor Unit (Anti-Corrosion Fin)-Yes
Air Flow
Air Direction Control (Up/Down)-Auto
Air Direction Control (Left/Right)-Manual
Air Flow Control Step (Cool/Fan)-5/4
Air Purification
Tri Care Filter-No
Allergen filter-No
Anti-Bacteria-Yes
Anti-Virus-No
Auto Clean (Self Cleaning)-Yes
Convenience
SmartThings-No
Filter Cleaning Indicatior-Yes
Indoor Temp. Display-Yes
Display On/Off-Yes
Beep On/Off-Yes
24-Hour Timer-Yes
Auto Restart-Yes
Operating Mode
2 Step Cooling-Yes
Auto Mode-Yes
Fast Cool-Yes
Comfort Cool-Yes
Dlight Cool-No
Good Sleep-Yes
Single User Mode-Yes
Dehumidification-Yes
Fan Mode-Yes
Quiet-Yes
Smart
WiFi Embedded-No
App Connectivity
SmartThings App Support-No
Works smart, saves energy
An energy-efficient Digital Inverter 8-Pole maintains the desired temperature without frequently turning off and on. So it uses less energy* and helps you stay comfortable for long periods.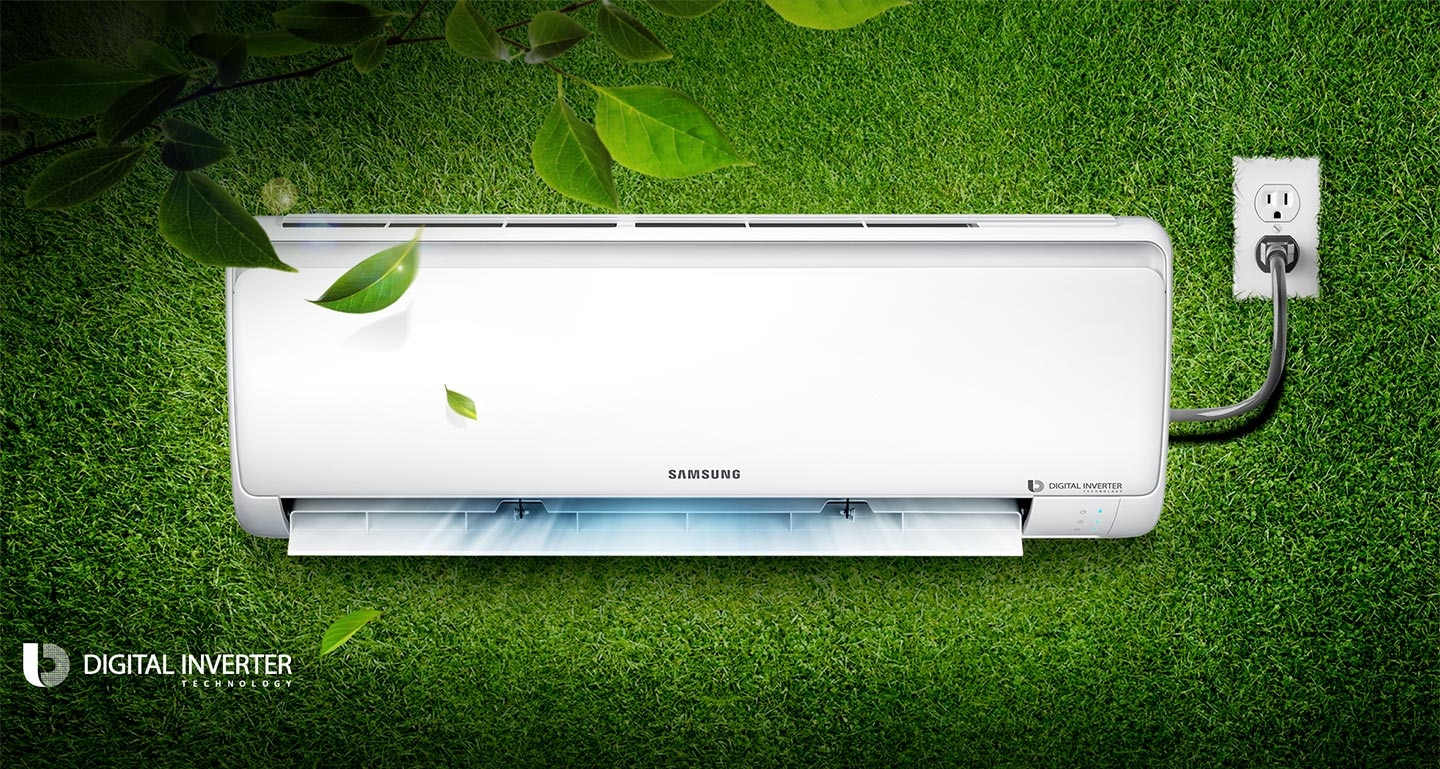 Fast Cooling
Fast Cooling Mode cools much faster by running the compressor at the maximum level with the fastest fan speed for 30 minutes*. It's Digital Inverter 8-Pole also helps it quickly reach the maximum Hz when it starts.
Keeps the air clean
The 3 Care Filter keeps your air fresh and the inside of the unit clean. As well as capturing dust, it eliminates up to 99% of certain viruses, bacteria and allergens* as they pass through its dense filter mesh.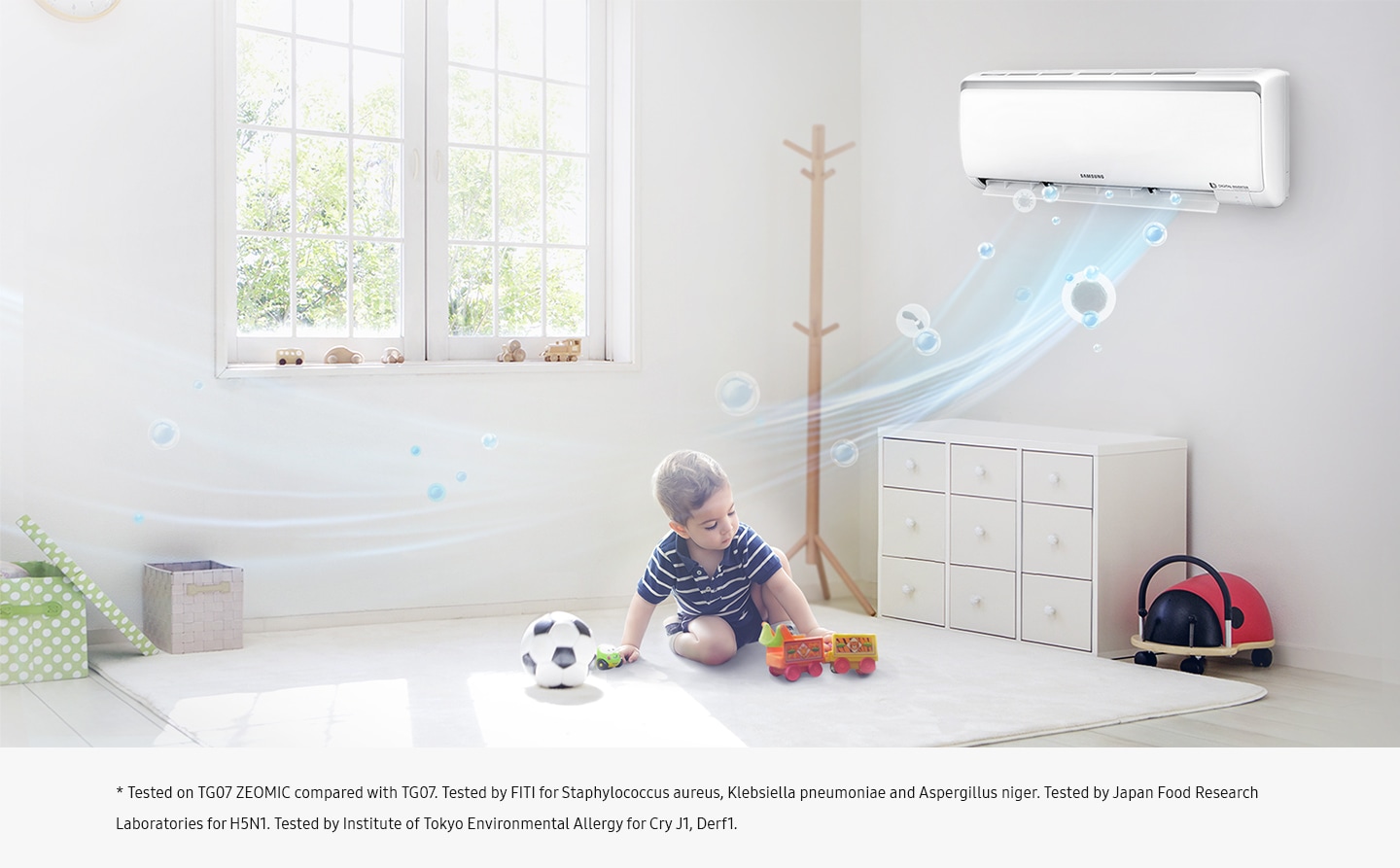 Keeps comfortably cool
The 2-Step Cooling Mode begins cooling the air fast using its Fast Cool mode. It then automatically changes to Comfort Cool mode to maintain the desired temperature, so don't have to keep changing the settings.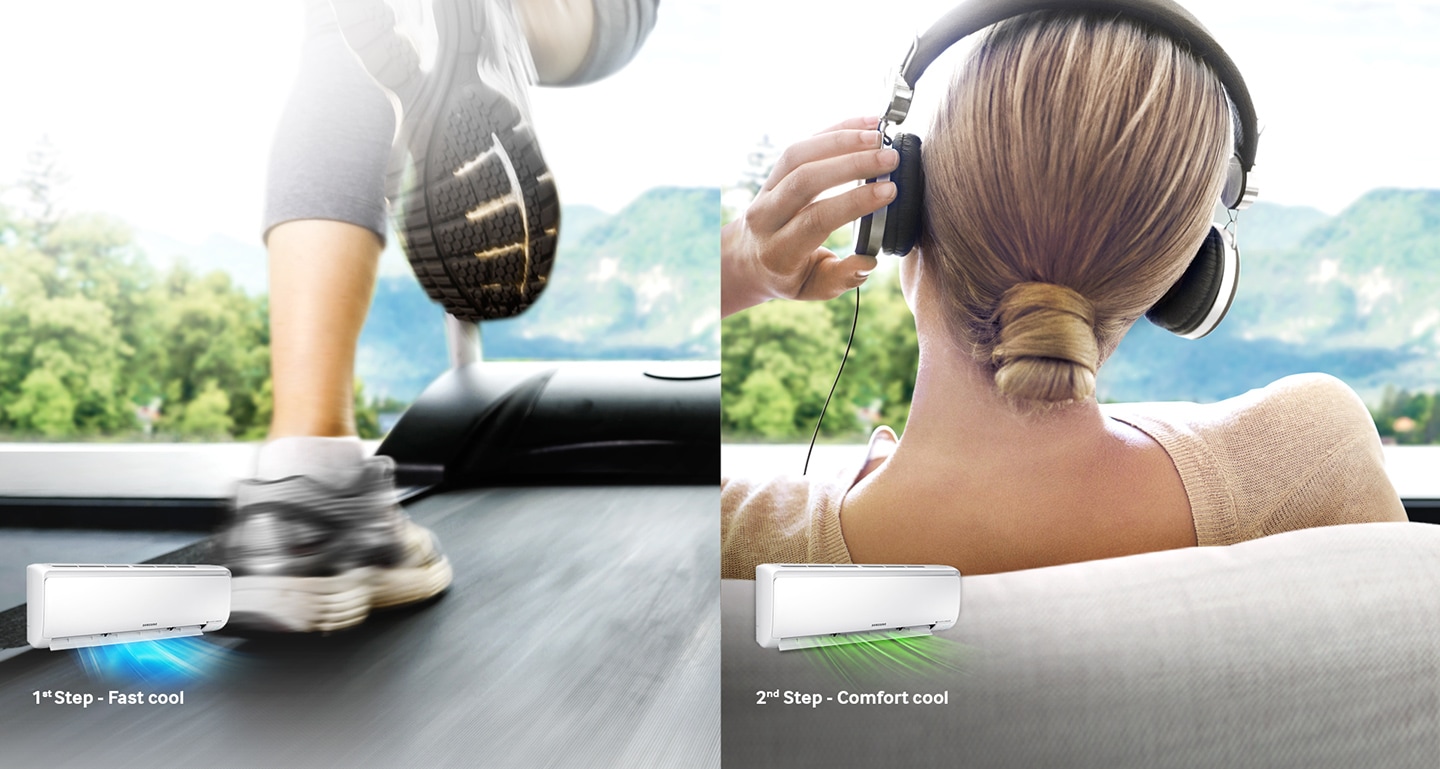 Stable performance
Keeps going in the most challenging environments with Triple Protector Plus technology. It prevents overloads, with Voltage Fluctuation Protector* feature, Samsung AC compressor can withstand range of voltage fluctuation (130Vac to 290Vac) ensuring stable performance and peace of mind. Its anti-corrosion coating also protects the condenser and cabinet in harsh conditions.
Enjoy good night's sleep
Good Sleep mode creates the desirable climate for a good night's sleep. With its temperature control, it keeps you comfortable, so you fall asleep fast, sleep deeply, and wake up refreshed.
Automatic temp. control
Auto Change Over automatically selects the operating mode required to maintain the set temperature. So you can enjoy a consistently comfortable environment without continually changing settings.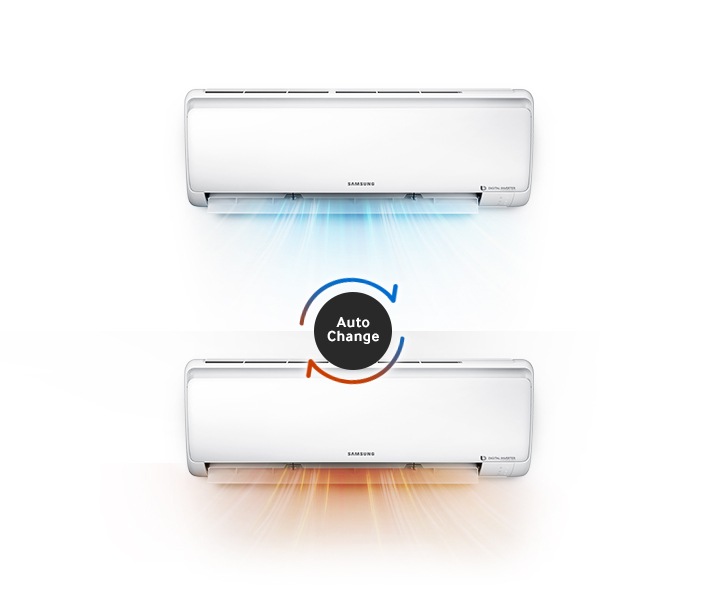 Stays fresh
When the air conditioner is turned off the Auto Clean function automatically runs a fan to remove dust and moisture in the heat exchanger. So it stays clean and dry, which prevents the growth of bacteria and mildew.
Installation & Demo
This product does not require installation. The features of the product are presented in the user manual that comes with it. Hence, the manufacturer does not provide on-site installation or demo for the product. In case of any queries about the installation or the features of product, kindly call us at 1800 208 9898 or (080) 49400000 for assistance.
Warranty
Warranty Service Type
Technician Visit
Warranty Summary
1 Year on Product and 10 Years on Compressor From Samsung
Covered in Warranty
All Parts Excluding Plastic Parts, Glassware, Bulb and Tube from the Date of Purchase Against Defective Material and Workmanship
Not Covered in Warranty
Parts: Plastic / Glassware / Bulb / Tube. Any Accessories External to the Product. The Product is Not Used According to the Instructions Given in the Instructions Manual. Defects Caused by Improper Use as Determined by the Company Personnel. Modification or Alteration of Any Nature made in the Electrical Circuitry or Physical Construction of the Set. Site (Where the Premises is Kept) Conditions That do Not Confirm to the Recommended Operating Conditions of the Machine. The Serial Number is Removed, Altered or Obliterated from the Machine. Defects Due to Cause Beyond Control Like Lightening, Abnormal Voltage, Acts of God or While in Transit to the Service Centres or Purchasers Residence.